Suzhou in the eyes of international students
Author:iSuzhou Source:国际学院英文版 Date:2021-07-17 Times:
12
The event "New Discovery of the City by International Students in Suzhou" was held yesterday. A total of 27 international students from 15 countries, including Afghanistan, South Korea, Laos, Russia, Canada, etc., have deepened their understanding of Suzhou and China through seeing exhibitions and visiting communities.
Organized by the Information Office of Suzhou Municipality, Foreign Affairs Office of the People's Government of Suzhou Municipality, Suzhou Municipal Archives, International Office of Soochow University and International College of Suzhou Vocational University, the event kicked off at Suzhou Municipal Archives at 10am yesterday.

As the student representatives, Ahmad Zubair Jamshidi from Soochow University and Nzobo Kihouissinga Tresor Delmar from Suzhou Vocational University made speeches.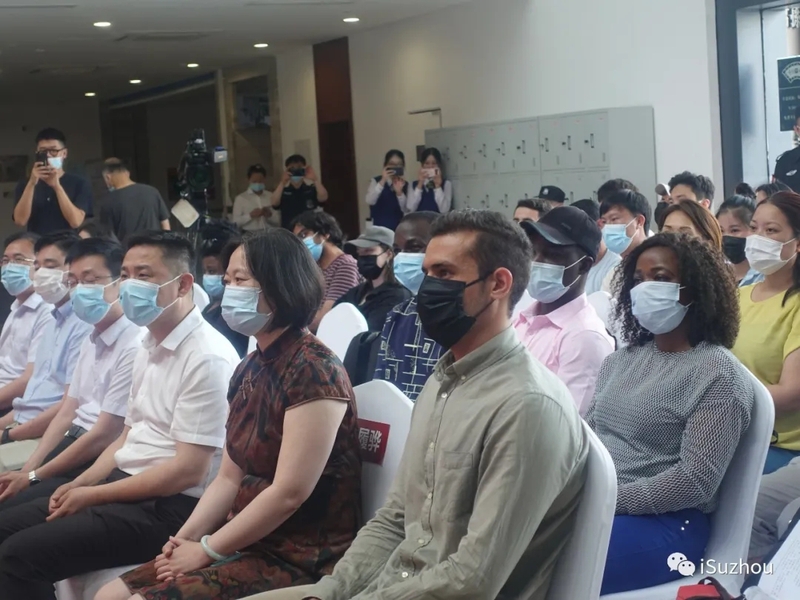 The organizers presented two books, Today's Suzhou and A Well-off China In The Eyes Of Foreigners, to the students on the launching ceremony.
After the ceremony was over, international student representatives appreciated the Exhibition of Precious Archives in Suzhou and Gifts for Foreign Affairs in Suzhou Municipal Archives, and visited Dong Sheng Li, Golden Valley Galleries and Suzhou Industrial Park Exhibition Center.

Original Link:https://mp.weixin.qq.com/s/XmAwCWC3qeDXSrsB1RnTZQ